Menu
Annual Events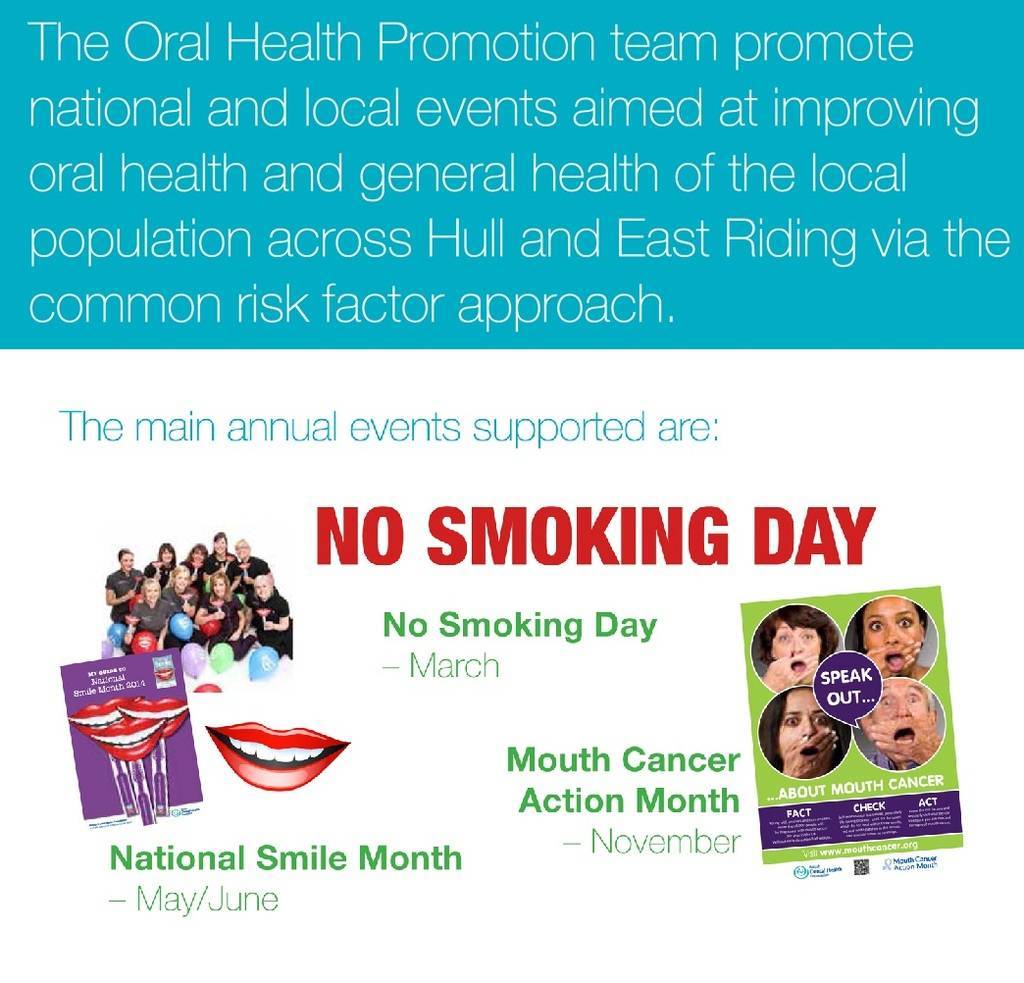 The promotion of oral health related annual events is one of the team's key priorities including Mouth Cancer Action Month, No Smoking Day and National Smile Month.
The team support fun events across the area to promote oral health and offer advice/support to local organisations such as nurseries and dental practices to raise awareness of annual events.
If you are interested in supporting Annual Events, please contact a member of the Oral Health Team who will be happy to offer advice and support to your organisation.
National Oral Cancer Action Month November 2019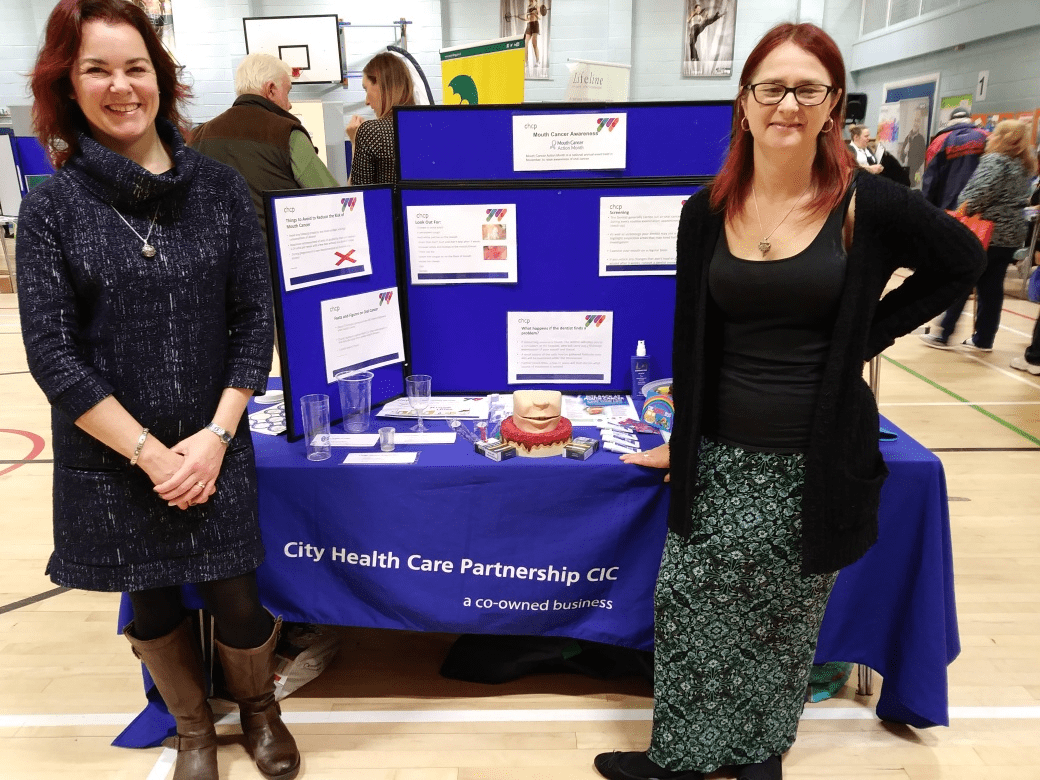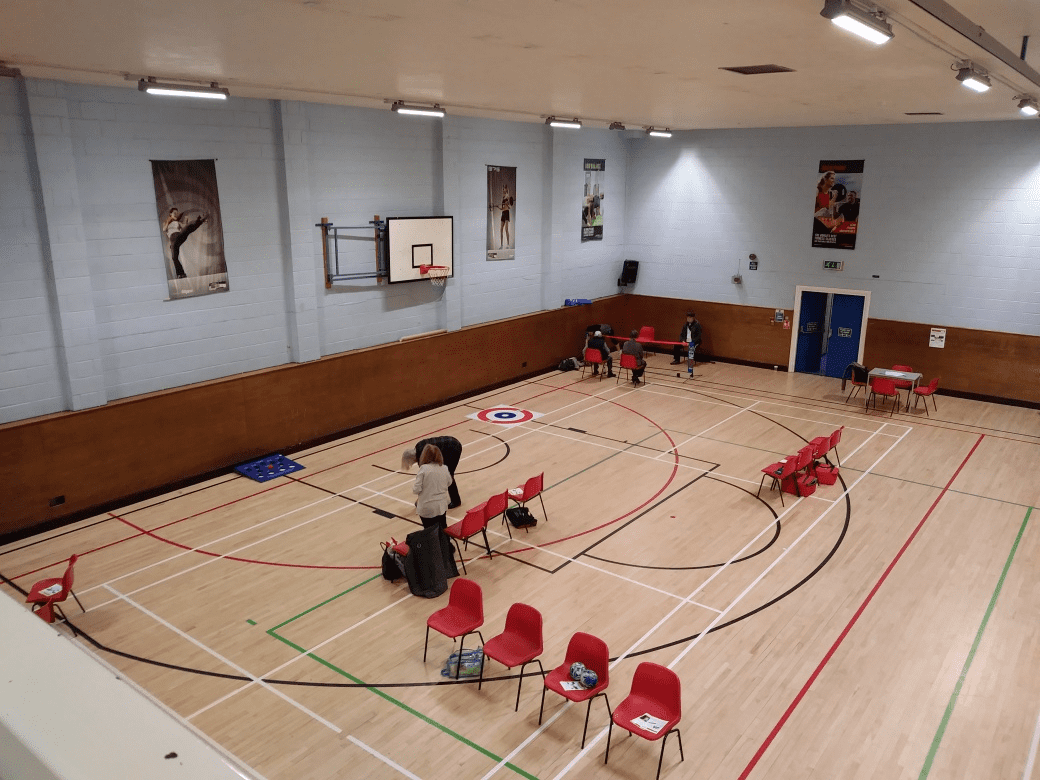 A special event to show case health and wellbeing services, including oral cancer awareness in Withernsea, attracted over 120 people. Stalls from a huge range of public and voluntary groups including Oral Health Promotion, Health Trainers, Sexual Health information, Humberside Police, Carers Support, the Big Local, Diabetes support, MacMillan and many more supported this event.
Held at East Riding Leisure Centre in Withernsea, visitors were encouraged to have a free health check and find out about their body composition by using Boditrax. Sports activities like curling, boules and chair volley ball were also offered to encourage people to enjoy gentle exercise. 100% of attendees said they would be keen to go to similar events in the future.
Tracey Burton the Oral Health Practitioner at City Health Care Partnership CIC and one of the other organisers of the event said '' We are delighted that so many Holderness residents came along to the Big Healthier event and found it both enjoyable and informative. Its the first time we have held an event of this type and we hope it will be the first of many.''
No Smoking Day March 2018
There are two events booked in the East Riding for this event. These sessions are in partnership with the local Health Trainer Team, at Goole Hospital and Hornsea High School.
National Smile Month 14th May -14th June 2018
The Oral Health Promotion team will be supporting National Smile Month at venues to be confirmed. Dental Practices will be encouraged to participate in this event.
Previous events
National Smile Month 15th May - 15th June 2017
The Oral Health Promotion team will be supporting National Smile Month at St Stephens Shopping Centre, Bridlington Tesco and Goole town centre.
Dental practices in Hull and the East Riding will be supporting National Smile Month with promotions and displays in their dental practices.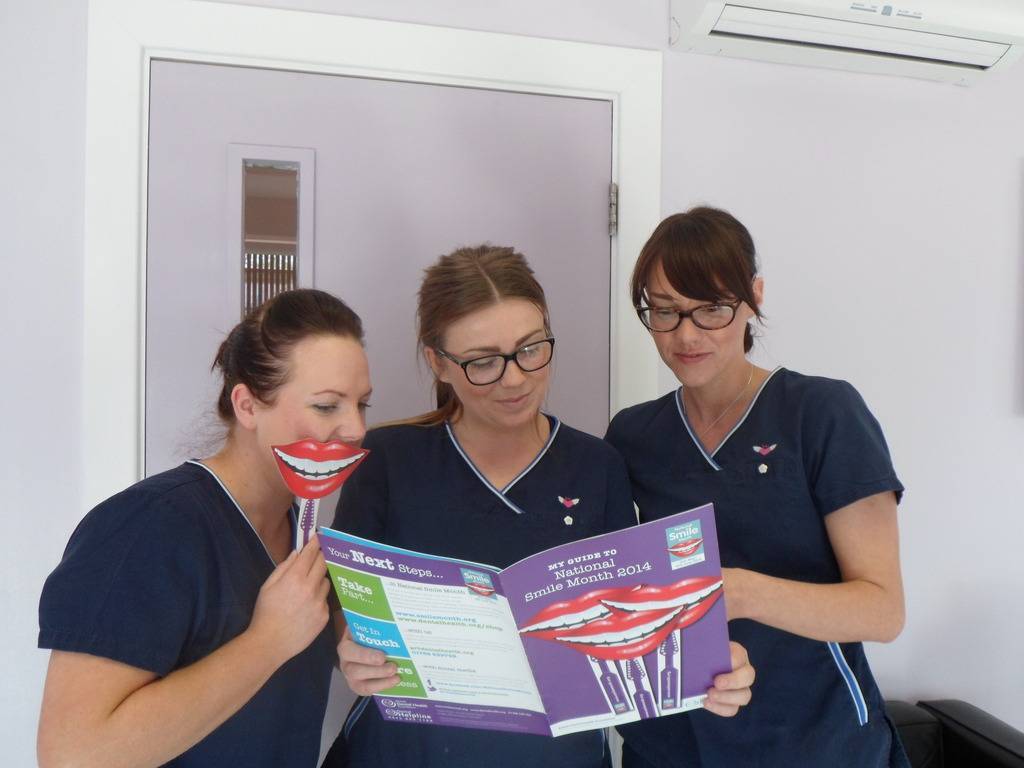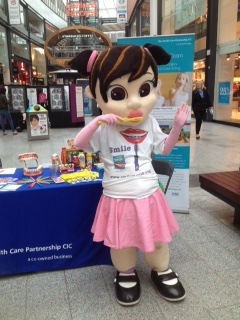 No Smoking Day March 2017
The Oral health promotion team will be supporting No Smoking Day 2017 and hope all health care professionals will get involved and support this important event. The Oral health promotion team will be attending events in local area to support the local population who are ready to quit smoking and signpost them to the nearest Stop Smoking service. Please click here for more information on stopping smoking.
Mouth Cancer Action Month (1st - 30th) November 2017
If you're looking to organise an activity to help us raise awareness of mouth cancer, your participation is extremely valued! We're delighted you want to be involved.
Whether you would like to do something by yourself or as part of a team, please check out the Mouth Cancer Action Month website below, we have some wonderful ideas for you!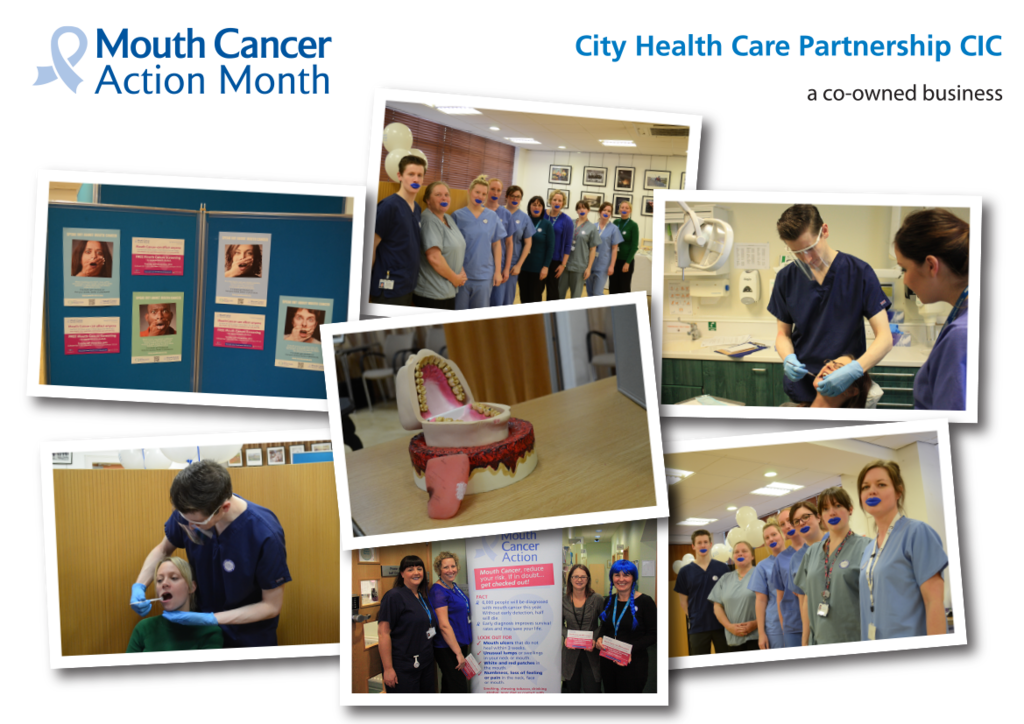 Stoptober October 2016
The Oral Health team worked closely with Dental Practices in the Hull and East Riding area to promote Stoptober and encourage referrals into the highly successful CHCP Stop Smoking Service.
Stoptober is a government campaign to encourage people to stop smoking throughout the month of October.
Research has shown that people who manage to stop smoking for that length of time are more likely not to start again.
Stoptober takes place for 28 days from 1 October.
England's Chief Medical Officer Professor Dame Sally Davies said it was the first time that the government had launched a "mass quit attempt".
The campaign involved TV and radio advertising, a daily messaging service and roadshows around the country. There is also a Stoptober app and a Facebook page.
FREE resources to promote Stoptober are available from this link.
No Smoking Day 9th March 2016
The Oral health promotion team will be supporting No Smoking Day 2015 and hope all health care professionals will get involved and support this important event. Further information on how to get involved can be found on the following websites:
The Oral Health Promotion team are proud to have supported the following events:
Dry January
CHCP and The Oral Health Promotion team have signed up to be able to provide communication and resources in partnership with the 2015 Dry January campaign.
The charity Alcohol Concern's Dry January encourages people to take a month out from alcohol and enjoy the benefits from having a break from drinking. The campaign launches today and will encourage as many people as possible to stop drinking during January.
Ever wondered what your usual tipple adds up to in terms of units or calories? Well here's your chance to find out – use the unit calculator on the website below, input what you had on a Friday night before January and see how many units and calories you were taking on board. That should help spur you on for the rest of the month!
Join the thousands who are taking a break from booze. You may save a few quid, lose a few pounds, and feel more energised and refreshed in the process.
A range of support and encouragement will be available via this website.
Mouth Cancer Action Month November 2014
Free mouth cancer screening in the East Riding
City Health Care Partnership CIC (CHCP) Dental Services and Public Health Services offered a mouth cancer screening event to raise awareness, provide advice and carry out free mouth cancer screening sessions in accordance with the Mouth Cancer Action Month 2014 national campaign.
The free mouth cancer screening took place in Bridlington Spa and people were able to drop in with no appointment.
It was a huge success in raising awareness of mouth cancer and the FREE mouth screenings led to many referrals for further investigations and treatment.
Gill Greenwood, Consultant in Special Care Dentistry at CHCP CIC, is keen to raise awareness of the disease and encourage more people to get checked regularly. She said, "The cases of mouth cancer are increasing on a yearly basis and unfortunately, tobacco use and drinking alcohol are the main risk factors, accounting for 75% of cases in the UK. We set up this session to encourage people to take notice of this disease. If it is caught early the chances of survival are transformed to more than 90% of cases.
"Cases tend to be higher in those who drink, smoke or have a poor diet, but more recently, the Human Papilloma Virus (HPV) transmitted via oral sex has been linked to mouth cancer and younger people are particularly at risk. Mouth cancer kills more people than cervical cancer and testicular cancer combined, so we have set up this session across to offer free screening and advice, no appointment is necessary."
The Perfect 32 dental practice in Beverley supported Mouth Cancer Action Month by painting their lips blue to raise awareness of Mouth Cancer.....