Equality, Diversity & Inclusion
CHCP is committed to developing, supporting and sustaining an inclusive and diverse workforce that is representative of the community it serves. Equally we are committed to the provision of services that respects our increasingly diverse populations and which promotes equality of access and care. Our culture promotes equity and fairness for all in our employment and care and actively discourages any form of discrimination.
Equality is about making sure people are treated fairly and given fair chances whilst recognising they may have different needs to meet.
Diversity describes a commitment to recognising and respecting differences between people while valuing the contribution individuals can make to the organisation.
Inclusion encourages innovation within the workplace, allowing people to contribute to the way things can be done for the better.
Our Strategy and Annual Report
To view the CHCP CIC Equality, Diversity and Inclusion Strategy which outlines our clear objectives, click here.
To view our Equality, Diversity and Inclusion Annual Report 2020/21 click here.
What we need to do by law
The core commitment of CHCP CIC is to provide fair, accessible services for all and equality of opportunity for staff is underpinned by equality legislation. Legislation of central importance to our Equality Strategy is:
Equality Act 2010
Public Sector Equality Duty
The Equality Act 2010 replaces previous anti-discrimination laws with a single act making the law easier to understand and strengthening protection in some situations.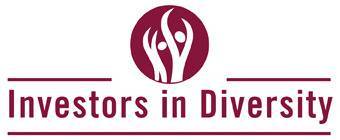 City Health Care Partnership CIC has been successful in achieving the Investors in Diversity stage 2 awarded by The National Centre for Diversity.


Top 100 most Inclusive Workplaces
City Health Care Partnership CIC has been placed number 9 in the Top 100 Most Inclusive Workplaces Index 2021!
Solat Chaudhry, Chief Executive at the National Centre for Diversity said: "I send my warmest congratulations to City Health Care Partnership on successfully reaching number 9 in the Top 100 Most Inclusive Workplaces Index 2021. It's been a challenging year and yet, it has not dented the excellent work that organisations and individuals do in promoting FREDIE best practice.
"Through the work of the FREDIEs we are able to build a better society, and our winners come from a wonderful cross section of private, public, education and charity sectors representing the very best."
Patient Information and Literature
All our patient information and literature is available in alternative languages upon request to ensure equality of access to all the services we provide.
CHCP CIC complies with Accessible Information, a requirement of the Health and Social Care Act 2012.
To find out more
To discuss an equality and diversity issue, please telephone 01482 976815 or email chcp.equalitydiversityandinclusion@nhs.net.