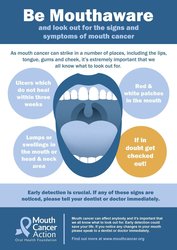 Mouth Cancer Action Month – time to get checked!
20 October, 2020
Over 8,000 people in the UK are diagnosed with mouth cancer every year; during November, Mouth Cancer Action Month, City Health Care Partnership's Oral Health Promotion team are encouraging everyone to get checked out so any signs of cancer can be caught early.
If you are over 40, smoke or chew tobacco or drink a lot of alcohol you could be thirty times more likely to develop this type of cancer. Other factors are prolonged exposure to sunlight without using sun screen on your lips, not eating enough fruit and vegetables and having oral sex with a person who is infected with the human papillomavirus (HPV).
If you find a lump or a painless ulcer that does not heal after three weeks, have difficulty swallowing, a sore throat or hoarseness that persists more than six weeks please phone a dentist for advice and support.
This year, more than ever, with limited access for treatment at dental and doctors' practices, it is vital to check your mouth regularly for mouth cancer.
Find out more at www.mouthcancerfoundation.org.