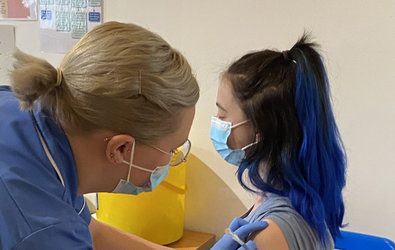 100,000 vaccines given at Hull City Hall
26 August, 2021
City Health Care Partnership CIC, who are running the vaccination centre at City Hall in Hull, announced today that they have now given 100,000 Covid jabs.
16-year-old Alisha Carter, who received the 100,000th vaccination today, said, "It's like opening a gate to go and explore. I'll be able to go on holidays and go to college, things like that. I was in two minds about it because I was a bit anxious about the side effects, but now I don't have to worry about getting Covid and it relieves the panic and stress. I'm really glad I've had it done."
CHCP's Group Chief Executive, Andrew Burnell, said, "It's incredible to think that since February this year, thousands of people have been protected from Covid-19 by getting their vaccinations at Hull City Hall. I'd like to pay tribute to the incredibly hard work that has gone on day in, day out to make this possible by an extraordinary team of vaccinators and volunteers, not to mention managers, administrators, pharmacists and many others.
"But although this is a magnificent achievement, there is still lots of work to do. Hull City Hall will soon be reverting to its status as an entertainment venue, so the vaccination centre will be moving to a new home; once this is agreed, we'll make sure everyone knows where to find us. I'd like to give a huge thank you to Hull City Council for the use of the City Hall during the past months and particularly to the terrific people working there for their help and support.
"We will continue to provide protection against Covid to people needing a second jab, those who haven't yet had their first one and will be starting work on a booster programme to make sure the virus can't take hold again."