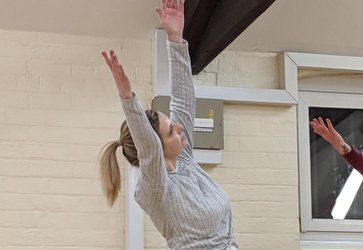 Charity funding gets people dancing
27 February, 2019
Funding from City Health Care Partnership Foundation, the charitable arm of health and care provider CHCP CIC, has allowed Hull Dance to provide inclusive contemporary dance classes in the city centre.
The drop in class runs every week at the State of the Arts Academy in High Street, Hull, and gives people the chance to try contemporary dance in an inclusive, friendly atmosphere. Tamar Draper and Jo Ashbridge, who run the class, are really pleased with how it's taken off.
"18 people have come so far altogether (although lots of them have been more than once) and they seem to be getting a lot out of it," says Jo. "It's very inclusive and suitable from anyone, from beginners to more advanced dancers, young or old. We're getting people who used to dance as children or youngsters but stopped and it's a chance for them to rediscover the pleasure of dancing."
Tamar agrees and explains, "The class isn't just about technique, there's a more creative element. We're keen to see people who've never danced before and we've made sure that they can come and go as they please – there's no commitment to come to every session. We do build on what we've learned each week but they can also dip in and out as it suits them.'
One participant, Carla, really enjoys the informal nature of the classes. "It's nice to be able to pick it up and drop in when you feel like it," she says. Another dancer says, "Going to dance class for me is not just a fad; if it was I wouldn't turn up in all weathers, chase it all over town when it is forced to move location, look forward to it with unbridled enthusiasm each week. It puts me in a different headspace, it gives me confidence to explore what my body can do in a safe non-judgemental space, it is enormous fun and challenging at the same time. Without dance and this dance class I am a lesser individual, which is felt acutely.'
Dancers' ages range from 16 to over 60 but there's no upper limit. "People don't feel judged, they're very supported," says Jo. "You can really see their confidence growing and relationships blossoming in the class as people get to know each other. We're so grateful to CHCP Foundation for helping to make this happen."
For more information about the Foundation, including how to apply for grants and to check if you're eligible, go to www.chcpcic.org.uk/chcp-services/chcp-foundation or call 01482 976926. The next round of grant applications closes on 1 March 2019.