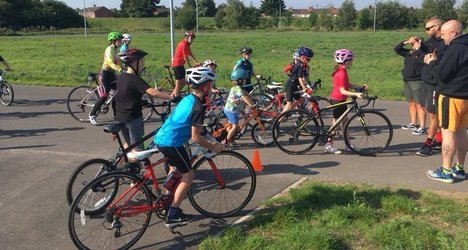 Charity helps cycle club to Go-Ride
11 April, 2019
A grant of £1000 from City Health Care Partnership has helped a Hull cycling club to coach children to be safe, competent cyclists.
Kingswood Cycle Club (KCC) was developed by a group of cycling enthusiasts who have a keen interest in all aspects of the sport. Whether it's road, mountain or cyclocross, the club offers members the chance to take part in all kinds of cycling activities.
The grant from CHCP Foundation (the charitable arm of local health and care provider City Health Care Partnership CIC) has helped the club with its plans to develop; in September they acquired prestigious Go-Ride club status from British Cycling.
Go-Ride is British Cycling's development programme for young people. It's a fun and safe way to introduce young riders to the world of cycle sport as well as a platform to improve bike handling skills.
The grant awarded by CHCP Foundation helped part-fund three members of Kingswood Cycling Club to attain Level 2 Certificate in Coaching Cycling and in March 2018 the club held their first Go-Ride 10 week course where they trained 40 children. The club has forged links with local schools, the local council and with Active Humber.
The Go-Ride sessions use the closed cycling track at Ennerdale Sports Centre; chairman Ian Butler explained that this is a really safe way to learn. "Using the closed track means younger riders and families can become competent cyclists, learning in a safe environment on a cycling track. It also means that those who may not be comfortable riding on a road or cycle path can gain confidence, led by our coaches."
The KCC Go-Ride Programme Saturday Mornings 10 to 11am at the Ennerdale Cycle Track in Hull.
All children need to be registered on the programme before taking part
For details email goride.kcc@gmail.com