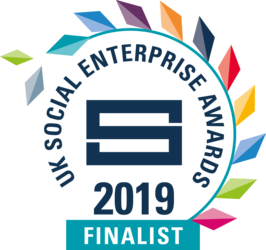 CHCP finalists in UK Social Enterprise Awards
30 August, 2019
City Health Care Partnership CIC (CHCP) has been shortlisted in the UK Social Enterprise Award, recognising it as one of the leading social enterprises in the country.
CHCP, based in Hull but providing services across the East Riding of Yorkshire, St Helens, Wigan and Knowsley is a finalist in the Health and Social Care Enterprise category. A leading health and care provider, CHCP was formed in 2010 as a co-owned public service mutual, providing services from health visiting and school nursing to public health, rehabilitation and specialist palliative care. In the last year it has had over 2 million patient contacts; 94% of people using its services said they would recommend them. CHCP's Social Return on Investment for 2017/18 was £49 for every £1 invested.
Social enterprises are businesses which trade for a social or environmental purpose. There are 100,000 social enterprises in the UK contributing £60bn to the UK economy, each one being set up to tackle some of the biggest challenges we face from homelessness to climate change.
The UK Social Enterprise Awards run by Social Enterprise UK, the national membership body for social enterprises, recognise the nation's most pioneering social enterprises. CHCP will be joining other shortlisted organisations at the prestigious awards ceremony held at London's iconic Guildhall on 4 December.
Previous winners have included a coffee company set up to create jobs for people who are homeless, an employee owned community health care provider and a company set up to tackle funeral poverty.
Commenting on being shortlisted, CHCP's Group Chief Executive Andrew Burnell said, "As a health and care provider, being a social enterprise means that we can reinvest into our services, our communities and our colleagues. We are delighted to have been shortlisted in this category and hope we can help to grow understanding of how social businesses are working to improve the health and wellbeing of people across the country."
Commenting on the Awards, Chief Executive of Social Enterprise UK Peter Holbrook said, "Every year the standards of applications for the UK Social Enterprise Awards gets higher and higher. At a time when public confidence in business is at a low and when we are facing crises both political and environmental – this year's shortlist shows how business can be used to build a better world."
About social enterprises
Social enterprises are businesses which trade for a social or environmental purpose that reinvest or donate over half their profits to further this social or environmental mission. They are an increasingly important part of the UK economy contributing £60 billion and employing 2 million people. Estimates are there are 100,000 in the UK. Research carried out by Social Enterprise UK, the membership body for the sector, shows they are outperforming traditional businesses when it comes to start-up rates, turnover growth and innovation. They are also ahead of the pack when it comes to workforce diversity and pay. For more information and statistics see Social Enterprise UK's State of Social Enterprise Report: The Future of Business and the 'Hidden Revolution' report, launched in September 2018 which showed the true scale and impact of the sector.