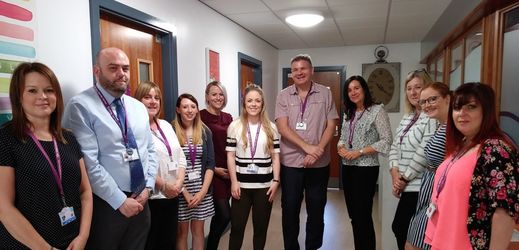 Eating disorders service will continue to Evolve under CHCP CIC
14 December, 2018
The team at Evolve
City Health Care Partnership CIC has been awarded a new five-year contract by NHS Hull CCG to continue to provide services to people in Hull experiencing eating disorders.
The Evolve service began ten years ago and its innovative ways of working have helped hundreds of people in their recovery from many types of eating disorder, including anorexia, bulimia and binge eating.
Senior operations manager Mike Johnson said, "The team is very excited to be part of this major service delivery. The new contract will give us the opportunity to improve the transition for young people and adults coming into the service.
"Evolve will provide extra physical monitoring of clients and will work closely with GPs to make sure referral into the service is smooth and efficient.
"Although the service will still be called Evolve, we'll have a new model, which means we can provide psychology and psychiatry to make sure people with eating disorders continue to be treated safely and effectively.
"It's also really important that all the communities in Hull are aware of Evolve and the services we offer, so we will be working with a number of groups to make sure that everyone who needs it is able to access the service."
The new contract was awarded following a full competitive procurement process carried out earlier in 2018.
Toni Yel, Head of Integrated Commissioning at NHS Hull CCG, said, "In developing the new Eating Disorder service model the CCG listened to the experiences of existing service users to determine what aspects of service they value and what areas they would like to see improve. We also engaged with potential service users and their families. Almost 400 responses were received and we would like to thank everyone who gave their views to help to shape the new service."
The new service model will start on 1 April 2019; Evolve will continue to be based in modern, refurbished premises at the Calvert Centre in Hull.