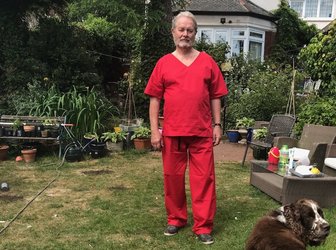 Scrub Hub to the rescue!
02 June, 2020
Photo: Dr Patrick Newman in his made-to-measure scrubs
City Health Care Partnership provide community nursing and care to people across Hull and the East Riding and due to the national shortage of scrubs were desperate to source some for their colleagues who have continued to see patients throughout the Coronavirus pandemic. A search on Facebook for local people making scrubs found 'The Love of Scrubs: Hornsea, Hull and surrounding areas.' The hub are working at the Men in Sheds building in Hornsea, where they receive huge numbers of scrubs daily from local people who are sewing them at home. They are, buying their own fabric and making up sets of scrubs, wash bags and mask clips out of kindness and generosity.
Organiser Bill said, "We are a voluntary non-profitmaking group uniting sewists at home all over East Yorkshire who want to make scrubs to help, this is not a business, nor is it efficient! We are just harnessing the warmth we have for the NHS. Fabric is paid for by fundraising as each pair of scrubs costs us £10 in materials. Each scrub set is supplied with a drawstring wash bag for hygienic transport between work, home and washing machine and can be washed at 60 degrees".
CHCP's order was made and delivered in less than a week! The team has also tried their best to colour co-ordinate scrub sets for teams, including urgent care, palliative care, GPs, sexual health, the ward at East Riding Community Hospital and the anticoagulation team.
Joanne Bruce, Senior Operational Manager at CHCP said, "We really appreciate the scrubs – our consultant is delighted and went out on a visit yesterday so it was great to have them."
Paul Wray, General Manager of Integrated Urgent Care Services said, "We were really happy that the scrubs were delivered so quickly as our supplier was facing a huge demand, which meant delays on orders."
Fiona Robinson from the Specialist Palliative Care Team said, "We all love the scrubs, they are a great colour! Thank you."
If you would like to donate funds to help purchase fabric, go to: https://uk.gofundme.com/f/for-the-love-of-scrubs-east-yorkshire