Menu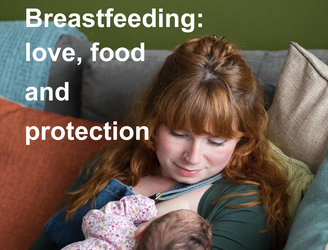 UNICEF accreditation for CHCP services
18 June, 2019
Local health and care provider CHCP CIC are celebrating today after achieving UNICEF baby-friendly accreditation for their children and young people's services for the second time.
The accreditation, awarded to CHCP's 0-19 service (which includes health visiting and school nursing) recognises the high standards that staff have maintained in their infant feeding practices and support for people navigating the transition to parenthood.
The award is a globally-recognised qualification and involves audits of staff and clients; it also requires a demonstration of how the service works in collaboration with other organisations, as well as with parents.
Although it focuses on promoting, protecting and supporting breastfeeding, the award also monitors safe practices related to formula feeding and being responsive to babies' needs. The more recent standards promote healthy relationships, the importance of infant mental health and positive bonding and attachment.
The UNICEF officers praised CHCP staff for not only maintaining their scores but surpassing them and said clients felt supported and that they valued their health visitors. Debbie Jackson, infant feeding co-ordinator, is delighted with the high scores the service achieved, saying, "The accreditation process is an accumulation of years of hard work by dedicated staff who have shown commitment to supporting parents and they should feel proud to achieve this prestigious award."
The World Health Organization recommends exclusive breastfeeding for six months. Exclusive breastfeeding delivers many benefits including, for example, significant reduction in gastrointestinal infections, reductions in the risk of sudden infant death. Supporting families to breastfeed and increasing the number of babies who are breastfed gives babies the best possible start. Breastfeeding supports close and loving relationships which help baby's brain development and formation of a positive attachment. It improves mental health and can reduce the risk of postnatal depression.