Menu
Wellbeing Events
Differently Abled - 14th February 2019

The event this year is going to be held in the newly-built Bonus Arena (next door to Princes Quay) which has space for over 200 stalls. Once again we are bringing together local services from Hull and the East Riding for a huge marketplace event. As it was such a hit at the last Differently Abled Event, we have hired the Autism Simulation Experience as well as its counterpart - the Dementia Simulation Experience. The event will also host a large Learning Disability and Autism Conference, which professionals from across Hull and the East Riding will be attending – they will also be given a break to come and see all of the amazing services which are on offer.
This event will be a valuable learning opportunity for all as it will increase people's confidence when working with people who have a learning disability and/or autism, but will also give staff an awareness of the diverse range of services available locally. Any staff that attend this event will receive a certificate of attendance.
For more information, please ring 01482 335642 or email chcp.wellbeingLD@nhs.net
Differently Abled Event - 9th February 2018
Please view the video below which was created at the Differently Abled 2018 Event!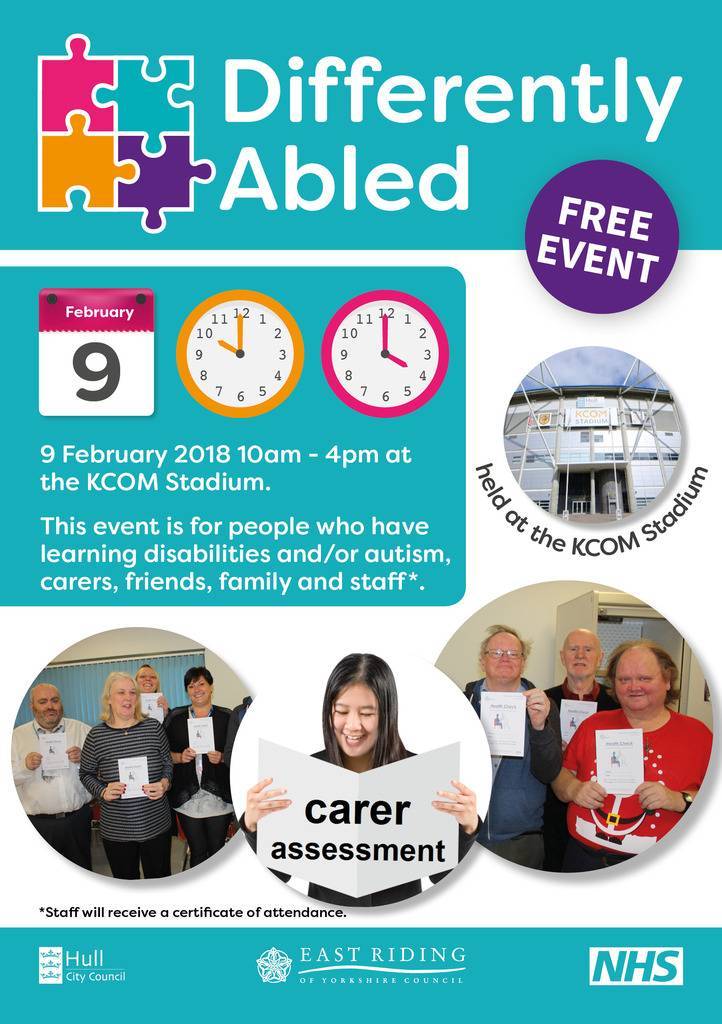 This is a brand new event aimed at ensuring people with learning disabilities, their families and carers in Hull and the East Riding are recognised and supported. The one-day 'Differently Abled' event will take place at the KCOM Stadium, in Hull, on Friday 9th February 2018, 10am - 4pm.
The event will be the first of its kind for the region and will feature a huge range of information stands covering the help and support that is available for people from birth through to end of life, plus much more including activities and health screening.
There is a wide range of support out there, but half the battle can be signposting people to the correct help and support. With this is mind we have invited as many services from Hull and the East Riding as possible.
We will achieve a wealth of information, from employment through to social activities, all in one place so I would encourage that you also publicise this event to enable anyone in need of additional support or information to come along.
For more information, please ring 01482 222220 or email chcp.carersinfo@nhs.net
The Wellbeing Games 2012