Menu
Carers Card
Supporting you: the Carer Card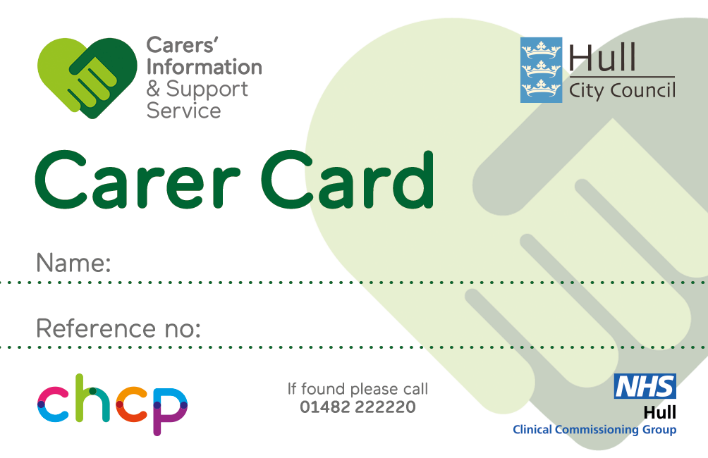 If you are a carer you can now benefit from a Carer Card; a card which officially identifies you as a carer and that should be carried by you at all times.
The card has two main purposes -
To notify emergency services that someone you are responsible for needs support, should something happen to you.
To get you discounted access to local health and wellbeing services, as well as with selected local shops and businesses.

How does the card work in an emergency?
Signing up to a Carer Card means that if you are not able to carry out your usual caring duties due to an emergency, like an accident or unexpected hospital admission, then support can be arranged to make sure the person/s you look after are not left uncared for.
Should something happen to you, a relevant professional will contact the telephone number of the back of the card to inform Adult Social Care that a carer has been involved in an emergency or accident.
This will instigate an emergency response as detailed in the contingency plan set up when you purchase your Carer Card. This may be something like contacting a second carer, family member or friend who can undertake caring duties or providing caring support from Adult Social Care.
A member of staff from CISS will work with you to establish your contingency plan and complete any necessary risk assessments in the case of an emergency. This means that action can be taken to ensure the safety of the person cared for in an emergency situation.
Important Note: This service is available for emergencies only. If you need to take a longer break from your caring duties, or the nature of your emergency means you will be unable to continue caring for more than 48 hours, then you will need to organise a short break either with the council or another organisation; this is not covered by the Carer Card. A CISS care support worker can assist in caring breaks, please discuss this with them during your initial CISS assessment.
How to apply
To get a Carer Card please contact CISS. They will organise an appointment for an assessment and talk to you about other services you could benefit from. Use the details below to contact them today:
Drop in to our Carers' Centre (Monday to Friday 9am – 5pm) at -
Calvert Medical Centre
110a Calvert Lane
Hull
HU4 6BH