Menu

Giroscape Gardens: from rubble to rhubarb
04 April, 2016
Giroscape Community Association is transforming a city back garden on Coltman Street in Hull from an overgrown rubbish dump to a community asset that can be enjoyed and worked in by people with a range of mental and physical health problems. Thanks to a £1,000 grant from City Health Care Partnership Foundation, the work is progressing swiftly and local people are already starting to benefit.
Giroscape is the brainchild of local residents Sharon Eastwood and Clare Whitfield, who saw an opportunity when property co-operative Giroscope Ltd bought a house with a huge garden. Giroscope turn empty houses into homes for those in need and the property is now occupied, but the garden is taking a little longer.
"We thought this would make a fantastic spot for a community garden," explained Sharon. "We've built a fence so the residents of the flats have a lawn and a nice outside space, but the rest still needs a lot of work. This is going to happen in two phases and the first is making the site safe for everyone including wheelchair users.
"We've got volunteers working here who can safely access and use it how it is and it's been particularly beneficial for people with mental health problems. One volunteer, who was very reserved and had hardly any gardening experience when he first came, has come on in leaps and bounds and now he's helping new volunteers and is starting to lead a team. Our volunteers are now working on other local gardens as well and helping the whole community.
"The aim is to be up and running for growing food and also as therapy for people who are excluded from society for whatever reason. We'd love to have parents with young children and one day we'd like to be able to run specific sessions, for example for people with dementia and their carers. We've put in special high raised beds so people don't have to bend down."
"Until we got the money from CHCP Foundation we were bringing tools from home every time we came," said Clare. "The jobs volunteers could do depended on what tools we had but now everyone can do the task they want. We're also going to use some of the money to get all the rubbish taken away, because there's so much of it and we need to be able to start digging soon. It's made a huge difference to this project and is going to allow us to open up the garden to more people who can benefit from it."
Martin Dougan, chair of CHCP Foundation, is delighted that the money is being put to such good use. "Giroscape is exactly the kind of project the Foundation exists to support," he said. "It's grassroots in every sense of the word and is already supporting people from the local community who will really benefit from its work."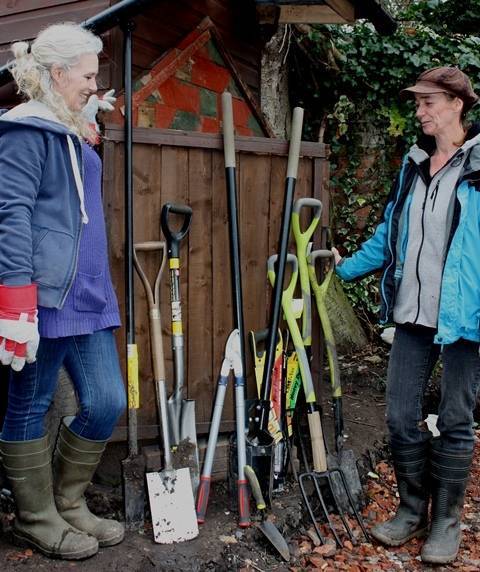 Clare Whitfield (left) and Sharon Eastwood with the tools bought with funds from CHCP Foundation