Menu
CHCP CIC launches Evolve eating disorder service in Hull
02 October, 2013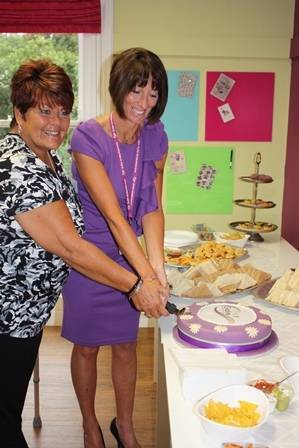 Marg Oaten and Nicky Guilfoyle cutting the Evolve cake
A new service for people with eating disorders was launched yesterday in Hull by City Health Care Partnership CIC. Actress Gemma Oaten, whose parents set up SEED eating disorders support network, cut the ribbon to officially open the service and spoke movingly about her own experience of having an eating disorder.
The Evolve Hull Eating Disorder service is located on Beverley Road in Hull in a specially-converted house designed to offer a range of treatments in a relaxed and welcoming environment. With facilities such as counselling rooms, an art room, a relaxation lounge, and a therapy kitchen and eating area, clients can cook and enjoy healthy meals and access individual and group activities.
The service will drastically reduce the number of people having to travel out of the area to get help and treatment for eating disorders such as anorexia and bulimia.